VMT® SmartPower intelligent vision system
Intelligent Vision System
VMT® SmartPower is a small, fast and robust intelligent camera for demanding environments, and is ideally suited for industrial applications. Owing to its space-saving and compact size, VMT® SmartPower is suitable for installation in nearly every assembly situation. VMT® SmartPower is specifically designed for rough and demanding conditions and has a dust and water-proof IP67 casing.
The compact VMT® SmartPower has an Intel® 1.6 GHz atom processor and runs under Windows® CE 6.0, the embedded real-time operating system of Microsoft. External devices can be connected via a 10/100/1000 Ethernet port, a USB 2.0 port, a serial RS-232 port as well as an opto-coupled trigger input and a strobe output. The direct communication with PLC systems and other automation units can be done with Ethernet/IP™ and Modbus® via TCP/IP.
The analysis software on the device is the thoroughly tried and tested VMT
®
IS vision system software, which ensures a stable and trouble-free operation in your production line.
Make use of our VMT® SmartPower system solution to realise the most diverse application in the field of vision systems.
VMT SmartPower basic package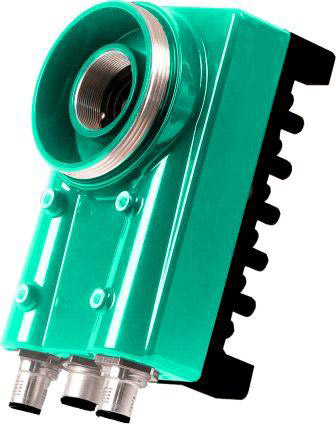 High-value intelligent camera in a GigE version
Software VMT® IS basic package
Standard lens in the in the focal distance 12 - 75 mm
TCP/IP interface
Basic set-up / commissioning
VMT SmartPower options
Monitor, keyboard and mouse
External operating and display panel
Full-scale turnkey option by VMT
VMT SmartPower applications
Assembly checks
Type recognition
Measurements
2D adhesive bead checks
Plain text reading
Reading of DMC/bar codes
2D robot visual channel
3D robot visual channel