VMT IS
The core of each VMT system solution is the self-developed VMT IS software platform.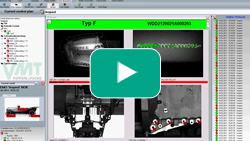 This is based on a neuronal network which is trained with models of the inspection characteristics. This enables the system to detect any characteristics, depending on the set task. By adding further external appearance variations, the system attains the highest possible level of detection certainty. Thus unstable environmental conditions and varying image backgrounds can be easily handled by means of simple optimisation.
A fast and simple set-up, intuitive operating possibilities and the comprehensive recording of the system are among the features of the powerful vision system software.
Depending on the type of assignment, the basic software can be extended by special functions and evaluation algorithms.
Due to these software structures, VMT solutions offer simple combination options to enable the combination of even very varied inspection tasks in a single system. Even the later extension of existing VMT systems is thus guaranteed.
VMT system solutions are validated in accordance with 21 CFR Part 11 (FDA standard) and are also deployed in the pharmaceuticals and foodstuff industry.