Gap measuring using the VMT dual head laser sensor
Due to the nowadays very demanding design specifications and related construction options in the automotive engineering industry, gap variations and the flush fit of mounted car body parts has become an even more important quality feature.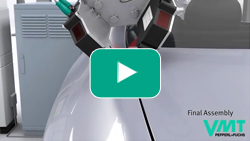 Traditionally, such gaps and flush fit dimensions are measured in special "gap measuring tunnels". These tunnels are equipped with a large number of sensors, because each measuring point requires its own sensor unit.
For this reason the number of sensor units increases very quickly, especially when several, diverse car models are produced in a single production line. As a result, operation and maintenance become very complex, and the acquisition of such a solution requires a very large investment. And when such a solution has been selected, a change in models means a considerable input in regard to adjustments or extensions.
By using the VMT dual head laser sensor a very high degree of flexibility is achieved, which permits a smooth and easy gap and flush fit inspection without any major effort, even on the most diverse car models. A simultaneous inspection of the gap width as well as the flush fit between the mounted parts can be performed on the body-in-white as well as on completed, painted cars in the final assembly stage.
The flexibility of gap measurement is achieved by the pinpoint positioning of the dual head laser sensors by means of industrial robots. This ensures an individual selection at measuring points on the car body without any major installation effort. This applies of course also to measuring points added at a later stage.
In addition to the savings owing to reduced measuring technology, the resulting reduced space requirement - depending on the version - contributes to the efficient deployment of this VMT solution.
The gap measuring cell can be realised in fixed cycle mode as well as in continuous mode.